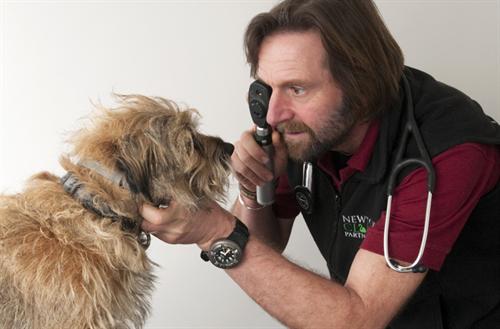 Qualifications: MA VetMB PhD MRCVS
I am a 5th generation Dorsetman, born in the Yeatman hospital in Sherborne when my father was a dairy farmer in the 1960's. Much to the disappointment of my farming ancestors, I showed little interest in agriculture (at the time); my earliest memory is falling asleep on my father's knee while he drove the tractor!
School days were spent at the Abbey School and Foster's, cementing my Sherborne roots. I remember professing no interest in academia at Foster's but then spent 13 years in Universities, starting off with 6 years at Cambridge! After qualification as a vet in 1985, I started my working life in Sussex and moved to Grantham to spend 2 hard but very happy years in mixed general practice. The Lincolnshire farmers were very forgiving of a young vet from Dorset who talked funny but seemed to try hard!
After meeting and marrying Tracey, we moved to Bristol where I joined the University's veterinary school at Langford on a research fellowship in 1987. My project investigated the way in which the immune system deals with different types of food. I am glad to say that the only thing my research animals had to endure was being fed tiny amounts of ovalbumin (egg protein). My thesis was passed in 1992 and so I became a Doctor of Philosophy although I was an immunologist, not a philosopher!
By that time we had moved to New York State where both of us joined Cornell University for a taste of the American way of life although I hardly left the confines of the Vet School (then, as now, we practiced 24hr medicine). Tracey worked as a fund-raiser and I spent my time in the large animal clinic, attending horses, cows and the occasional llama.
A few years later, after I'd spent a spell with an American law firm as a scientific advisor and gathered 1000's of air miles, general practice beckoned again in the shape of the old station master's house at Sherborne railway station. I banged up my plate there in 1999 and the practice moved to Swan House in 2005. As time has gone by, our small animal case load has blossomed so that I have all but stopped doing large animal work. My poor ancestors, what would they say!
We have two children, two dogs, two cats and two chinchillas…and if they are not keeping me busy, I'll be cycling, kayaking, running and trying to play squash. Not all in the same week now, though!